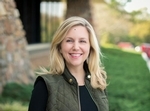 Lora Leigh was born in Cookeville, Tennessee and raised in Nashville. She attended Brentwood Academy and the University of Tennessee in Knoxville. After college, she set out to Texas and then onto Ohio before coming back to Nashville in 2013.
Her marketing career began as a catering director for American Golf Corporation, then she was hired to oversee the development of the marketing and sales department for a multi-million dollar mixed use events facility being built in Brazos County, Texas. After leaving Texas and her fast paced career, she moved to Columbus, Ohio where she worked for Limited Brands as a sales trainer in the first Henri Bendel store outside the flagship in New York City.
Lora Leigh began at Bainbridge Realty Group in 2014 putting her communication and marketing skills to work in every aspect of the office. She is the "client concierge" as she takes care of each client to ensure that the contract to close process is seamless. She is a relationship builder and works along with Bill to make sure each client has a positive experience home buying/selling experience.